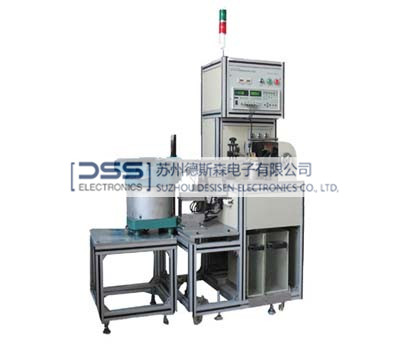 Introduction
Function
Parameter
Work environment
This system is specially designed for defect automatic detection of bearing roller bearing produced by bearing factory, which can also be used for nondestructive testing of magnetic or nonmagnetic metal parts of similar size. This system can work online or offline, which has advantages of high detection sensitivity, good automation degree, easy operation, with characteristics of automatic alarm and automatic separation, is the required nondestructive testing equipment of bearing factory. This system adopts the high stability of eddy current flaw detector, fixed balanced point probe, workpiece automatic spiral forward, can do non-destructive inspection on workpiece surface.
This method does not need any coupling agent, no direct contact measuring of probe and workpiece, so there is no pollution and no damage to the surface. High frequency produced by eddy current flaw detector will detect eddy current on the surface of workpiece through probe,and high frequency magnetic field produced by eddy current on the surface of the workpiece will in turn affect the probe impedance, once defect found on surface and destroyed the original vortex field, then lead to changes of probe impedance, instrument realize automatic crack detection through measuring probe impedance changes.
Instrument is equipped with power regulation, sensitivity adjustment, phase adjustment and impedance balance adjustment knob. It is suitable for testing of all sizes, also has fluorescent oscillograph screen and illuminated display for waveform display and defect echo amplitude instructions, defect echo amplitude designation sound alarm function can realize automatic alarm and monitoring of overweight failure. Mechanical part is vibrating disc feeding mechanism, ensure the workpiece automatically and evenly into the detection area, double roller rotation institution driving the workpiece automatic rotating and forward in a certain pitch toworkpiece separating signal, therefore the automatic separating of nonconforming product is realized.
scene pictures
NEXT: No date